Congressman Grijalva: Thank You For Prioritizing Ocean Climate Action!
---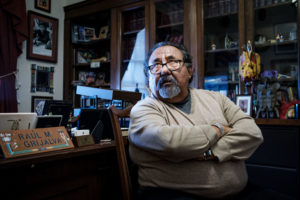 The ocean is our planet's life support system. No matter how far you live from the shore, the ocean affects your life, and everyone, in turn, impacts the ocean - whether through what we eat, the energy we use, and how we take care of our streams and creeks, which all lead downstream to the sea.
The ability to protect the ocean from inland and coastal communities is a growing concept, and we thank Arizona Congressman Raúl Grijalva for his leadership as House Natural Resources Committee Chair in promoting ocean climate solutions 
The ocean has tremendous potential in the fight against climate change and Congressman Grijalva is a strong champion for promoting offshore renewable energy, supporting marine protected areas, safeguarding marine fisheries, and restoring coastal and ocean ecosystems. 
Congressman Grijalva embodies the Inland Ocean Coalition's view that no matter where you live, the ocean is critical to the future of life on Earth and we can all take action to protect it.
Thank Congressman Grijalva for supporting our ocean!