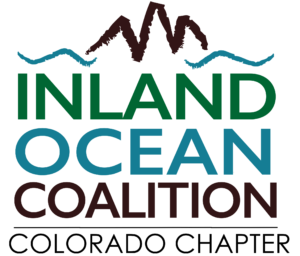 The Inland Ocean Coalition began as the Colorado Ocean Coalition (COCO) in 2011. Founded by Vicki Nichols Goldstein after a family move to landlocked Boulder, CO in 2009, the Coalition's aim was to inspire and empower Colorado citizens to promote the health of our ocean through education and community involvement.
Having spent most of her life working to protect our ocean, Vicki started looking for organizations in Colorado that had an inland ocean focus. To her surprise, there were none. She consulted with colleagues and found inspiration in their support for a new initiative, an Inland Ocean Movement. In 2011, she formalized the idea and the Colorado Ocean Coalition became a project under the fiscal sponsorship of The Ocean Foundation.
One of the organization's first steps was to lead a delegation of Coloradans to Washington, D.C. for the biennial Blue Vision Summit in 2011, where COCO was applauded for bringing ocean issues to the heartland. The Colorado Ocean Coalition has since held three major regional conferences on ocean protection, called Making WAVES, sponsors a monthly Blue Drinks, launched the Ocean Ambassadors Certification and Ocean Rangers programs, and co-developed initiatives like Blue The Dive and Suck the Straws Out. The movement has garnered support and recognition from luminaries in the ocean conservation movement—people like Dr. Sylvia Earle, Marine Researcher In-Residence at the National Geographic Society; Jean-Michel Cousteau, Founder of the Ocean Futures Society; and Dan Basta, former Director of the U. S. National Marine Sanctuary System.
Contact
Angie Joerin, Chapter Lead