Want to Be a Champion for Our Ocean?
Are you passionate about protecting our ocean and looking to make a difference? We often hear that the ocean is in trouble or that it's too late to act, but we want to show you that just one person can make a difference.
The Inland Ocean Ambassadors Training Program is a 5-session, 5-week online program offered three times per year that prepares individuals to take action to protect our ocean and waterways.
While we know that our ocean is in trouble, it's also not too late to act. According to a major recent scientific review, our ocean can be restored to its previous bountiful state, but only with a redoubling of conservation efforts. We've already seen dramatic improvements in many areas. In 2000, less than 1% of our ocean was protected; now it is almost 8%. Many whale, sea lion, and other marine animal populations are increasing and good things are happening because people are more aware and taking action.
A big part of turning things around will include getting more people involved around the country and across the globe, and not just those who live on the coast.
The virtual IOA Training Program is designed to prepare individuals with the skills and tools to be powerful advocates for ocean and watershed health. Over five weeks, Ambassadors from all over the country learn from top ocean advocates, scientists, and policymakers, and network with other Inland Ocean Ambassadors and partner organizations to expand their ocean and water expertise. Ambassadors gain experience in community engagement and advocacy and get the tools needed to be effective ocean and water champions in their communities.
The training covers watershed health, plastic pollution, the ocean as a solution to climate change, marine protected areas, fisheries management and sustainable seafood, the power of storytelling, how we are Heartwired to love the ocean, and much more. 
We accept applicants who want to be effective ocean and watershed advocates and be actively involved in our Inland Ocean Network. This training is designed to be interactive and participants will be expected to engage with the group throughout the five weeks. 
Inland Ocean Network (ION)
After completion of the Inland Ocean Ambassador Training Program, participants will become members of the Inland Ocean Network (ION). ION is a network of Ambassadors spanning across the nation and serves as a hub for ocean protection initiatives, problems, solutions, and calls to action. Through ION, Ambassadors have access to monthly Engagement Activities including call-in days, nationwide cleanup days, campaign involvement, and more. ION provides resources, forms relationships, connects members, and catalyzes movement actions to create a more just and equitable representation of the inland ocean movement. 
Since the ocean is not only a coastal issue, ION will grow the involvement of inland communities, unite inland and coastal communities, and grow the actions and measures taken to protect and restore our ocean.
Summer 2022 Training Details
Sessions are held at 4pm PT/7pm ET, each Thursday for two hours

from June 9th to July 7th, 2022.

Application deadline extended! Apply by Monday May 30th, end of day. 
Applicants must be 18 years or older to apply.
We ask for a minimum $5 monthly donation during the course of the training. A limited number of scholarships are available; please see the application for more information.
Summer 2022 Training Timeline
Module 1: Course Intro and the Power of Storytelling (June 9th, 2022)
Introduction and course overview
Guest Speaker: Wallace J Nichols, author of Blue Mind
The power of storytelling: how we are Heartwired to love the ocean
How the ocean impacts our lives
Module 2: Sunscreen and Coral Reefs (June 16th, 2022)
Module 3: Sustainable Fisheries (June 23rd, 2022)
Guest Speaker: James Mitchell, Don't Cage Our Oceans

Sustainable fisheries and the issues of ocean finfish farming

How to choose sustainable seafood
Module 4: Advocating for a Healthy Ocean (June 30th, 2022)
Guest Speaker: Hilary Stevens, Restore America's Estuaries
Blue carbon as a solution to climate change
Get to know your House Representatives and Senators
Advocating for healthy ocean and watershed policies
Module 5: Supplements and Introduction to Inland Ocean Action Network (July 7th, 2022)
Inland Ocean Ambassador Graduation Ceremony
Inland Ocean Network and next steps as an Ambassador
Meet the Speakers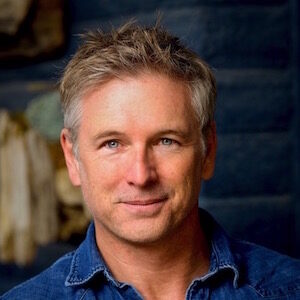 Wallace J Nichols
Dr. Nichols helps people reestablish healthier, more creative and regenerative relationships with themselves, each other and their environment through water, wonder, wellness and wildlife. Dr. Wallace "J" Nichols — called a "Keeper of the Sea" by GQ Magazine, "a visionary" by Outside Magazine, a "water warrior" by AQUATICS International, a "friend of the sea" by Experience Life Magazine, and "the godfather of water" by Irish Life Health and Santa Cruz Waves Magazine — is an innovative, silo-busting, entrepreneurial scientist, movement maker, renowned marine biologist, voracious Earth and idea explorer, wild water advocate, bestselling author, sought after lecturer, and fun-loving Dad. He also likes turtles (a lot). Formerly a Senior Scientist at Ocean Conservancy, Nichols holds a B.A. degree from DePauw University in Biology and Spanish, an M.E.M. degree in Natural Resource Economics and Policy from Duke University, and a Ph.D. degree in Wildlife Ecology and Evolutionary Biology from the University of Arizona. He received a Bradley Fellowship to study the impacts of sea level rise at Duke University Marine Lab, a Marshall Fellowship to study conservation while at the University of Arizona, and a Fulbright Fellowship to study at the Universidad Autonoma de Mexico marine station in Mazatlan. He has authored more than 200 scientific papers, technical reports, book chapters, and popular publications; lectured in more than 30 countries and nearly all 50 states; and appeared in hundreds of print, film, radio, and television media outlets including NPR, BBC, PBS, CNN, MSNBC, National Geographic, Animal Planet, Time, Newsweek, GQ, Outside Magazine, USA Today, Elle, Vogue, Fast Company, Surfer Magazine, Scientific American, and New Scientist, among many others.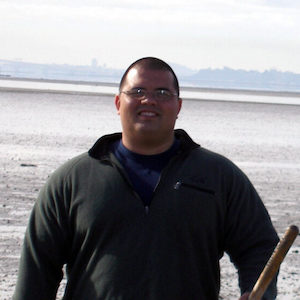 Dr. Craig Downs
Executive Director, Haereticus Environmental Laboratory
Dr. Craig Downs is Executive Director of Haereticus Environmental Laboratory, a nonprofit organization that conducts fundamental and applied research, dedicated to understanding and protecting public health and ecological health from pollution threats. He has published studies on the impact of UV filters on animals and plants, with a focus on coral reefs. He has published over 50 scientific papers and a number of book chapters in scientific textbooks, and is Co-Editor of the CRC Press veterinary book, Diseases of Corals. Dr. Downs founded and was Chief Executive of two biotechnology companies, and co-founded two other biotech companies focused on developing various technological platforms for clinical and cellular diagnostics, as well as immuno-therapeutics. Dr. Downs has also founded a number of non-profit organizations whose focus ranges from animal welfare to environmental conservation and exploration. He has held positions as research professor at University of Hawaii's School of Medicine and Sweet Briar College, and is currently a visiting professor at Sorbonne University in France. Dr. Downs received a B.A. in philosophy and biology from Hiram College, an M.Sc. from Syracuse University in biology, and a Ph.D. from the John A. Burns School of Medicine, University of Hawaii in cell and molecular biology.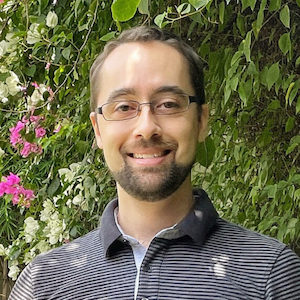 James Mitchell
Legislative Director, Don't Cage Our Oceans
James is an environmental attorney and advocate, with over 12 years of experience in working to protect our oceans and all of us who depend on it. He began his work in fisheries at Food & Water Watch, where he advocated in Congress for equitable fisheries and aquaculture for U.S. producers and consumers and promoted responsible alternatives to industrial offshore finfish farming. Afterwards, he worked for Greenpeace for several years, assessing the performance of U.S. supermarkets, institutional foodservice companies, and Southeast Asia-based tuna companies in their procurement practices, and ecological sustainability/human rights standards. For part of this time he lived in Southeast Asia, where he continued as a consultant and co-founded a microbrewery in the Philippines. James is Chilean-American, so he can converse in either English or Spanish. James received his law degree from American University, Washington College of Law, and his bachelor's in science from Tufts University. Today, he is based in Arlington, VA, and can be found daydreaming about post-pandemic adventures, spending time with family, and enjoying a great beer.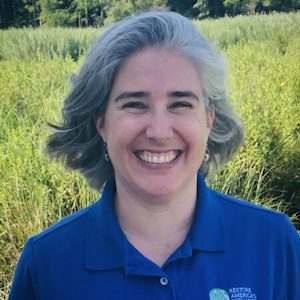 Hilary Stevens
Coastal Resilience Senior Manager, Restore America's Estuaries
Hilary Stevens is the Coastal Resilience Senior Manager at Restore America's Estuaries. She oversees the Blue Carbon and Living Shorelines programs. She is a geologist and environmental scientist with extensive experience in coastal resource management. Hilary has worked on coastal issues and climate change adaptation around the US and globally, with an emphasis on using best-available science to address community needs and improve resource management. She has a particular affinity for island communities, stemming from her time working in Saipan, Northern Mariana Islands, and as a Peace Corps volunteer in the Philippines. She holds a master's from Yale University and a B.S. from Wesleyan University.
"I am so happy and grateful for being guided to take part in the Inland Ocean Coalition Cohort. Through this program, not only have my eyes been opened to the problems surrounding our oceans but also ways to educate and reach out to people around the nation on solutions for future generations! I feel I have grown as a student and leader in my community through this program and I recommend anyone interested in learning about problems existing in our natural world to take part." -DaRon Shavers
"The IOA program is an inspiring experience full of people who encourage each other to put their best fin forward for the ocean!" -Tabitha Birdwell
"The IOA training is knowledge-packed, inclusion-focused, and action-forward! It left me feeling inspired to work with my new colleagues and friends to apply what we learned to protect our ocean and land – starting with the 30×30 campaign." – Angie Joerin
"I truly loved hearing from all the speakers, learning all the different ways that we can help, and knowing there are ways to get involved in our communities on so many different levels. I'm excited to start doing my part to help save our ocean and to spread the word of how everyone can help!" – Suzi Fowler
"I liked the topics studied. Real issues, how to address them. Also, the real life opportunities that follow the training. I signed up because I wanted to make a difference in my community. We got together, learned and now it's time!" – Priscila
"I most liked getting to hear from different speakers and all the resources that were shared with us each week. I also really loved making friends through this process." – Michelle