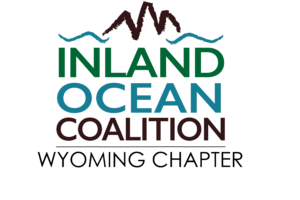 The Wyoming chapter of the Inland Ocean Coalition was founded in early 2019 by Kelly Wright, a life-long resident of Cheyenne who has always had a deep passion for nature and the ocean in particular. If asked, she will tell you that the ocean is more than fish that inhabit it - the ocean is the world's vitality! Kelly is so excited to be part of the IOC family and is especially looking forward  to growing the Wyoming Chapter and sharing the land-to sea stewardship message through education, advocacy, and leading by example. She looks forward to working on an initiative to educate others on the impact plastic pollution has on our environment and ensuring that policies reflect a sustainable future for our planet, people, and our ocean.
Joining Kelly is Chanda Spears, the Education Coordinator for the Wyoming chapter. Chanda is currently a teacher with LCSD #1 and loves sharing her passion for the ocean and ocean conservation with students. As the chapter's lead for the education committee, Chanda looks forward to working towards educating the community and their youth through classroom lessons that are engaging and aligned to the Next Generation Science Standards.
Alongside Kelly and Chanda, Jenna James is Wyoming chapter's Cleanup Coordinator. Jenna is focused on creating cleanup events and initiatives in Cheyenne and other parts of Wyoming. She was crowned Miss Mermaid Wyoming 2019 and has a strong love and compassion for the ocean. She has been organizing cleanup events in waterways throughout her life and aims to make a lasting impact in Wyoming.
Contact
Kelly Wright, Chapter Lead