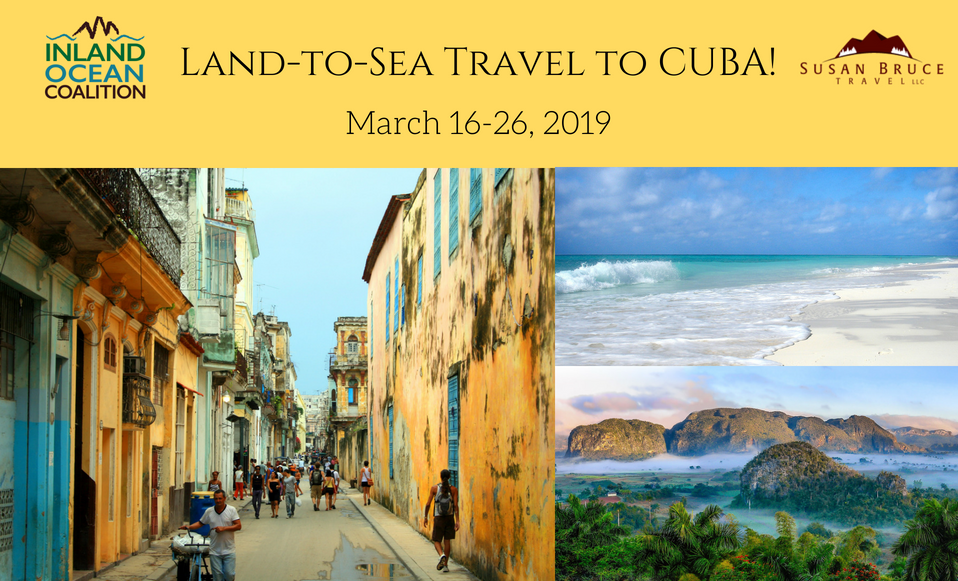 Explore Cuba with the Inland Ocean Coalition and Susan Bruce Travel
11 Days / 10 Nights | From $5125 Per Person
An exclusive insight into Cuba's history, people, and nature
Here are just a few of the highlights:
Exploring Guanahacabibes, NOAA Sister Marine Sanctuary,  in Maria la Gorda — off limits to most U.S. citizens.  We have authorization to take you here!
Diving (or snorkeling if you prefer) the coral reefs of the southern coast which sustain rich marine life
Birding with an expert in the Zapata National Park, the largest wetlands in the Caribbean, home to large numbers of migratory birds and rare endemic species
Soroa Orchid Garden with 20,000 plants including 700 orchid and thousands of fern species
Viñales National Park and its 250 million-year-old loaf-shaped limestone mountains laced with caves and famous tobacco farms
Exchanges with Antonio Núñez Jiménez Foundation one of Cuba's oldest NGOs and our primary host in Cuba.
An evening with Sr. Ariel Ricardo, a retired diplomat from the Cuban foreign ministry who worked with Jacques Cousteau on the Calypso
Havana's art and music scene and the colonial cities of Trinidad and Cienfuegos
The BEST local guides
Note:  You don't have to be a diver to fully enjoy this trip!
Cuba Blue Drinks in Boulder, CO
Join us for an exciting evening about Cuba and our March 16 – 26 2019 trip. We'll recap our 2018 adventure and talk to those who were on the trip.
When: October 10, 6–8 pm
Where:  The home of Amy and Terry Britton, 814 Spruce St. Boulder CO 80302
Heavy Hors d'oeuvres and drinks will be served.
Please RSVP to Susan Bruce. For more information, please call Susan at 404 593 6391.
Cuba is a beautiful, fascinating country with stunning nature and biodiversity and vibrant arts and culture.
We'll be hosted by scientists, conservations and diplomats and visit some of Cuba's best-known protected areas including the stunning NOAA sister marine sanctuary Guanahacabibes where we will dive/snorkel its pristine reefs.