Uniqueness Brings New Marketing Opportunities
Our ocean is in crisis, and its protection can no longer be seen as only a coastal issue. The mission of the Inland Ocean Coalition is to create an inland movement that builds land-to-sea stewardship through our vision of encouraging individuals and communities to take an active role in improving the impacts and relationships between the inland, the coasts, and the ocean. By engaging individuals and communities that want to be part of the solution, we build chapters, lead campaigns, and deliver programs that have a direct positive impact on our watersheds, coasts, and ocean. 
The Inland Ocean Coalition has three program areas that are the foundation of our model for land-to-sea stewardship:
Ocean Protection

:

Our ocean is at risk from offshore oil development, weakening of healthy fisheries legislation that has worked to rebuild and maintain sustainable fish stocks for decades, attacks on our national marine monuments and sanctuaries, and the impacts of climate change. We partner with businesses, governmental and nonprofit organizations organizations to bring an inland voice to ocean protection. 
Watershed Health:

To protect our ocean we must protect our waterways. We promote watershed health through local creek cleanups, supporting bans on toxic sunscreens and other harmful personal care products, and advocating for reduced use of chemical fertilizers, pesticides, and herbicides, and other harmful land use practices. 

Plastic Pollution

:

We combat plastic pollution through campaigns targeting single-use plastics, movements that get to the root cause of plastic pollution, and scientific studies that assess the extent of microplastics in our waterways. We are working with the University of Colorado in Boulder and other research institutions to assess the presence of microplastics in Colorado headwaters and the urban reaches Front Range watersheds. 
Employee Engagement
Employees want charitable engagement opportunities. In fact, many indicate they wish their company would do more to support a cause or social issue. Employee engagement can generate greater pride, loyalty, and passion toward the company's mission, which studies show can increase productivity. Ultimately, aligning with the Inland Ocean Coalition gives your employees pride that they can help protect our ocean and waterways. 
Americans indicate that they have a more positive image of a company that supports a cause they care about.
The majority of employees indicate that corporate social responsibility is important when deciding where to work.
Social Responsibility
Businesses experience tangible benefits in aligning their brand with socially responsible nonprofit organizations, particularly when their target audiences overlap. The Inland Ocean Coalition target audiences are outdoor enthusiasts who are concerned about the state of the natural world and whose concern is reflected in their recreational lifestyle and purchasing decisions. The Inland Ocean Coalition target audience has a shared environmental ethic.  
The Inland Ocean Coalition connects with our audience in our every-day decision-making process and through several venues including schools and universities, dining, shopping, promotional and educational events, programs, media, and many more opportunities. This repeated and varied interaction with our community creates sponsorship opportunities. These opportunities include contacts that enhance overall brand image, endorsements, website and event visibility, and word of mouth exposure. Featured corporations have the additional opportunity to create customized co-branded campaigns flexibly suited to achieve our organizations' mutual marketing objectives.
Become a Sponsor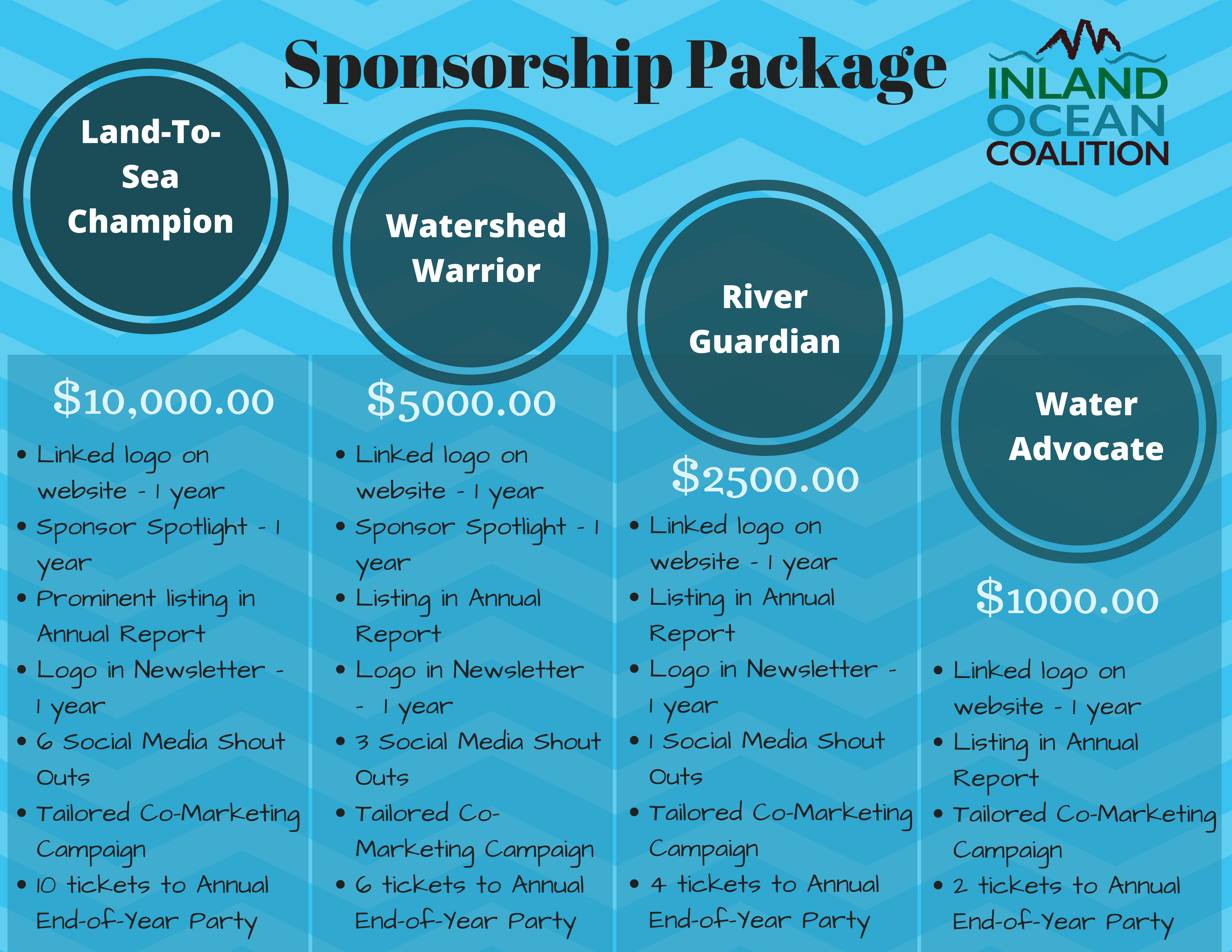 Include the following information and we will get back to you quickly:
Company name:
Company contact name and title:
Contact email:
Contact phone:
Sponsorship request/question: