Uniqueness Brings New Marketing Opportunities
Because we are comprised of inland communities working to protect the ocean, the Inland Ocean Coalition must create unique approaches to meeting its goals and objectives, the way we do business, and toward our programs and initiatives. Novel approaches mean that we come into contact and collaborate with new and unique partners and audiences every day. The Inland Ocean Coalition has created programs to facilitate this cultural shift of land to-sea-stewardship. A sample of our innovative programs, campaigns and initiatives are:
Ocean Rangers: A

fun and dynamic four-hour training that covers topics including watershed health, sustainable seafood, plastic pollution, ocean acidification, microbeads, strategies for effective advocacy, and more. After the training, volunteers will be equipped to take positive action and educate others, including students, legislative leaders and residents, about land-to-sea stewardship.

Suck the Straws Out:  

An educational campaign to decrease the use of plastic straws. We encourage bars, restaurants, businesses, and other establishments to only serve straws upon request, and to offer an eco-friendly or reusable alternative in such instances as a first step effort to educate about the environmental damages created by single use plastics.

Land to Sea Travel:  Travel and educational opportunities to promote land to sea stewardship for both youth and adults. 
Legislative Outreach:  Traveling to Washington DC every other year, we educate and appeal to inland congressional delegates regarding the importance of protecting the ocean even if they don't represent coastal states.
Blue the Dive:  

Blue the Dive is a unique project that seeks to improve dive industry sustainability and conservation practices by educating SCUBA divers, free divers, snorkelers, ocean recreationists, and dive businesses on what they can do to protect the ocean and unite them to act on ocean conservation issues.
Employee Engagement
Employees want charitable engagement opportunities. In fact, many indicate they wish their company would do more to support a cause or social issue. Employee engagement can generate greater pride, loyalty, and passion toward the company's mission, which studies show can increase productivity. Ultimately, aligning with the Inland Ocean Coalition gives your employees pride that they can help protect our ocean and waterways. 
Americans indicate that they have a more positive image of a company that supports a cause they care about.
The majority of employees indicate that corporate social responsibility is important when deciding where to work.
Social Responsibility
Businesses experience tangible benefits in aligning their brand with socially responsible nonprofit organizations, particularly when their target audiences overlap. The Inland Ocean Coalition target audiences are outdoor enthusiasts who are concerned about the state of the natural world and whose concern is reflected in their recreational lifestyle and purchasing decisions. The Inland Ocean Coalition target audience has a shared environmental ethic.  
The Inland Ocean Coalition connects with our audience in our every-day decision-making process and through several venues including schools and universities, dining, shopping, promotional and educational events, programs, media, and many more opportunities. This repeated and varied interaction with our community creates sponsorship opportunities. These opportunities include contacts that enhance overall brand image, endorsements, website and event visibility, and word of mouth exposure. Featured corporations have the additional opportunity to create customized co-branded campaigns flexibly suited to achieve our organizations' mutual marketing objectives.
Become a Sponsor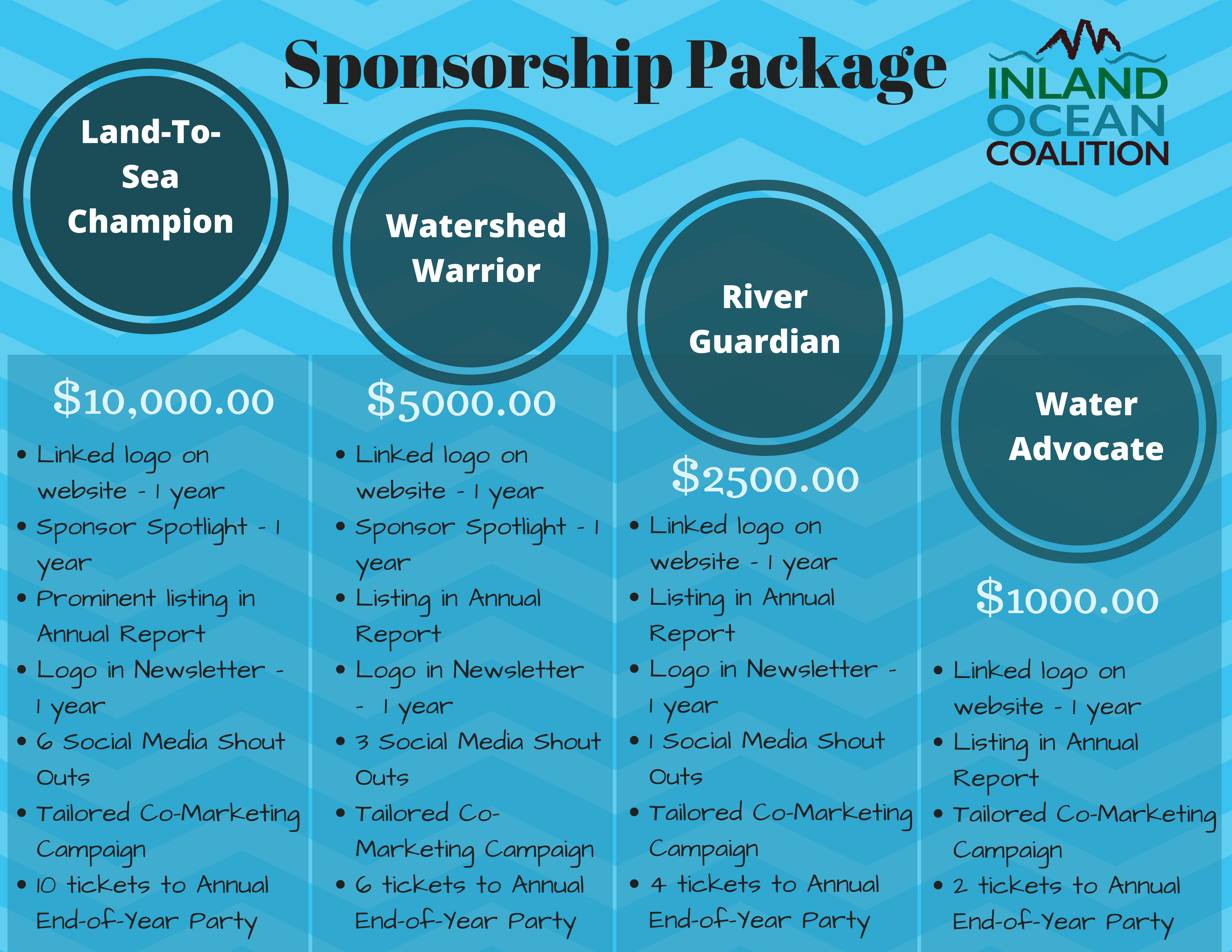 Include the following information and we will get back to you quickly.
Company name:
Company contact name and title:
Contact email:
Contact phone:
Sponsorship request/question: