By Sophia Zengierski
In a time of national division and crisis, President Trump has chosen to roll back protections on the Northeast Canyons and Seamounts Marine National Monument. Signing this executive order means opening the area up and putting wildlife and habitats at risk.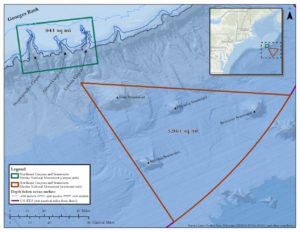 In the race to protect 30% of the Earth's land and seas by 2030, every protected area counts. But why are protected areas so important? Quite frankly, marine protected areas allow the species and ecosystems to flourish, undeterred by unexpected human activity. We have already seen the enormous capability the ocean, and nature, has to rehabilitate if given the opportunity. Providing a safe haven for animals and other marine life allows them to better cope with other stressors such as climate change and acidification. Typically, fully protected areas have as much as 600% of biomass restored.
However, wildlife are not the only beneficiaries of MPAs. Our human population derives a great benefit as well. MPAs enhance food security, promote marine tourism and the jobs that creates, and provide resilience against climate change and other global crises.  Furthermore, the American public values environmental protections with 86% of Americans supporting protecting 30% of the ocean by 2030 and 95% supporting the development and maintenance of marine protected areas. As the only marine monument in the Northeast, the Seamounts represent a vital stake in our protection of our oceans. 
On World Environment Day and in the middle of World Oceans month, we should be taking the opportunity to learn and support the nature that surrounds us. But as we face challenges throughout the country, there comes a great strength in collaborating to build a positive future. No matter where we come from or the experiences we face, we are all dependent upon the sea. And together we can work to defend and protect our environment. 
Image Credit: The Pew Foundation