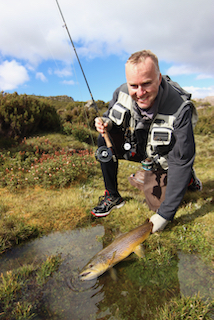 By Rick Wallace, founder and editor of Tackle Village
As fishermen and women, we don't always think about the important role we play in conservation.
Maybe some of us don't consider ourselves as conservationists, but I actually believe almost all of us are deeply interested in conserving the natural environment.
We do this in all kinds of ways, both big and small.
But we can always do better. So, this list details seven steps to ensure that conservation is an inherent part of the way we fish as recreational anglers.
Dispose of line properly
Leaving fishing line on the bank or beach is a hazard for birds and other creatures, as well as other humans. So, it is vital to dispose of it properly. Line can last for hundreds of years beyond their initial use. Gather up any unwanted line and cut it into small pieces with scissors before putting it in the bin or the fishing line receptacles you sometimes see on piers or other popular fishing spots.

Leave only footprints in wild places
Always take out your rubbish from any place you visit and make it a habit to take out what other trash you find.

Always follow bag and size limits
These exist for the health of fish stocks and of the marine or freshwater ecosystem you are fishing in. It is vital for a healthy fishery that we as anglers abide fully by these rules.

Practice catch and release where appropriate
We practice catch and release in blue ribbon sport fisheries where you have comparatively few but large or important fish. Blue ribbon trout streams are a good example: we might take a fish for dinner in a lake, but in a stream that is a popular fishing destination and trout have their favored lies, we should practice catch and release fishing even if the rules allow taking fish. Another example of where catch and release is preferred is where the target fish is particularly slow growing or under pressure.

Handle fish with care and respect
When practicing catch and release, follow the principles of the successful Keep Em Wet (https://www.keepfishwet.org) campaign by minimizing the amount of time fish are out of the water (a quick photo, then get them back in) or in contact with hard surfaces.

Become an advocate for sport fishing and don't be afraid to share your favorite spots
A lot of fishermen and women are a bit hesitant to reveal some of their favorite spots to others. This is an understandable competitive spirit. But think of it this way: if more people we can get to experience magical wild places that we really care about, then more people are prepared to defend them from mining or forestry, oil and gas exploration or other dangers, as well as overexploitation via commercial fishing.

Join a volunteer project
A environmentally-oriented volunteer project is a great way to give back to the locations that bring us joy. For example, fisheries and marine scientists often rely on anglers to gather data to help them understand the biology and habits of fish and the health of populations. This is a great way to help nature and science while doing what you love.
So, there are our seven golden rules for reducing the impact of your fishing on the earth and helping preserve both fish stocks and wild places for the generations to come.