Eco-Friendly Gift Wrapping
By Christine Evans
Did you know that Americans throw away 25% more trash from Thanksgiving through New Year's than the rest of the year, amounting to an additional 25 million tons of garbage? When it comes to wrapping presents, we use more than 8,000 tons of wrapping paper each holiday season–equal to about 50,000 trees! This means a lot of extra raw materials, water, chemicals, and energy used, as well as extra carbon emissions from the manufacture, transport, and disposal of these products.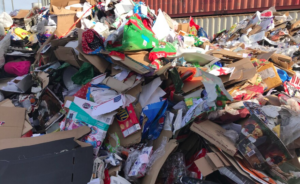 Most of our holiday wrapping isn't recyclable either. A good rule of thumb is that the fancier it is, the less recyclable it will be. If it contains sparkles, glitter, sequins, artificial texture, plastic, or foil, it can't be recycled, and some municipalities don't accept any wrapping paper. If you try to recycle wrapping paper that is recyclable in your municipality but it has leftover tape, ribbons, bows or sticky labels attached, that won't work either. 
If every family in the US wrapped just 3 of their holiday gifts in reusable materials this year, the amount of paper saved would be enough to cover 45,000 football fields. And, if every family reused just two feet of ribbon, 38,000 miles could be saved–enough to tie a bow around the earth. All that for just one country, in one year. 
There are countless possibilities for wrapping gifts in a way that looks beautiful and festive, while also treading more gently on our planet. Get creative and try to reuse and repurpose things you already have as much as possible. 
Read on for sustainable gift-wrapping inspiration!
Beauty in Simplicity
Use What You Have
There are so many possibilities once you start looking at the things lying around your home as potential gift-wrapping materials. You can use paper shopping bags, gift bags from previous gifts you've received, newspaper, colorful pages from magazines, old maps, tissue paper, or scarves and pretty towels.
Less is More
When using non-traditional materials for wrapping, it's easy to feel like you need to overcompensate, but a little goes a long way. A reused bow, small branch from your Christmas tree or tree outside, pinecones, acorns, or dried flowers make a lovely touch. Decorating presents with nature makes gifts look special and unique, providing a beautiful gift accent for presents under the tree.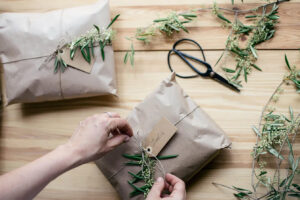 Reuse as Much as Possible
Save the wrapping paper, gift bags, bows, ribbon, and tissue paper from the gifts you receive. If you do this every year, you'll never have to buy wrapping materials again! I do this every year in my family and I have more wrapping paper saved than I could probably ever use. Hopefully some day more of my family members will go the less is more route, too.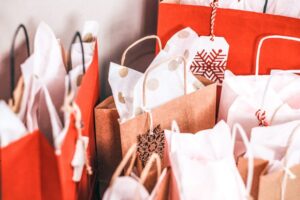 Buy Sustainably
If you do need to buy materials, look for items that can be reused and recycled. Plain paper items and twine are great alternatives that can have a second life if you recycle or reuse them. You can even purchase reusable fabric gift wrap that can be used over and over. 
Material Inspiration
Brown Paper Bags
Good-old brown paper bags just need some creativity and a few colorful additions to spruce them up. Small brown bags can be repurposed as beautiful gift bags decorated with some sprigs of mistletoe, holly or pine cones, colorful gift tags, twine, yarn, recyclable ribbon, small ornaments, or even holiday stamps. Simply save these over the year from shopping (if you didn't remember your reusable bag!), deliveries, or gifts you may have received in bags, then decorate them as you see fit with stencils, stamps, freehand drawings, and even Wite-Out to create snowflakes or Christmas trees.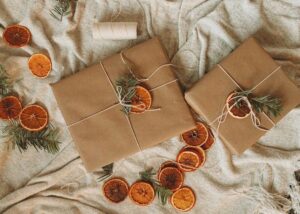 Larger brown bags can be cut up and used just like wrapping paper. Add the same kinds of colorful additions if you wish, and if you have kids who still like art projects, you can enlist them in your decorating. It's best to avoid paint, crayons, or excessive glue and sticky tape as these can make your paper unrecyclable. 
Cloth or Fabric (Furoshiki)
Gifts are traditionally wrapped in square cloths in Japan (where it's called furoshiki) and Korea (where it's called bojagi). The wraps can be reused over and over among friends and family. While this method is becoming more popular in the US, you don't need to buy special cloths in order to use this method. Scarves, kitchen towels, handkerchiefs, and even tablecloths will work just fine.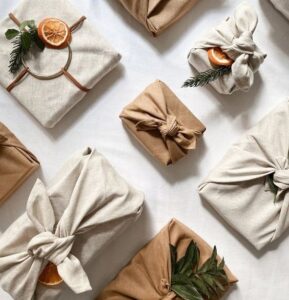 To wrap a gift in furoshiki, all you need is a two-sided square or rectangular cloth (depending on the gift you're wrapping) and some basic folding skills. Here's a simple way to wrap a gift in furoshiki: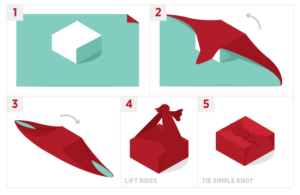 Check out this website for more furoshiki inspiration. 
To spruce up the wrapping, try first wrapping your gift in leftover tissue paper under the cloth. 
Newspaper
While many of us no longer receive newspapers, for the millions of Americans who still do (or if you don't, find someone who does), repurposing your old newspapers into wrapping paper can make for simple and aesthetically wrapped gifts. As with other options, you can spruce it up with twine or leftover ribbon, as well as some repurposed materials from nature. You could also choose your piece of newspaper to use based on a funny or interesting article, or something that has to do with the gift you're giving. Get creative!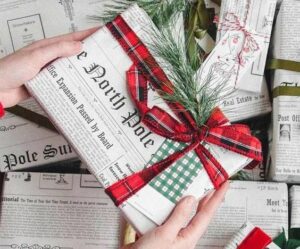 Glass Jars
Glass jars are a great way to give small gifts or homemade items. Simply save glass jars you've used or check out your local thrift store. You can spruce up your jars with decorations like candy canes, cinnamon sticks, dried pieces of citrus, a sprig of eucalyptus leaves or rosemary, attached with a piece of string or twine. Jam, tea blends, cookies, or small DIY kits can all make great ideas for gifts to give in jars.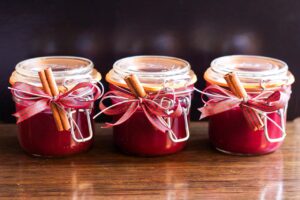 Fabric Gift Bags
Reusable gift bags or tote bags are a great zero-waste gift wrapping method and probably the easiest way to wrap gifts with less waste. The bag becomes part of the gift itself, as the person receiving the gift can reuse the bag for future gift-giving.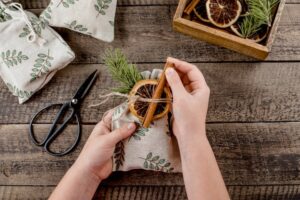 Look for gift bags that are made with natural materials like cotton or jute, especially if you will want to wash them. You can also repurpose any velvet bags you may own into beautiful gift bags. And if you're into DIY or like to sew, you can even make your own!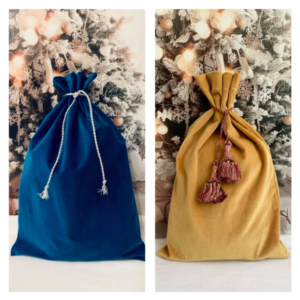 Recycled-Content Paper
If you still want the look of printed wrapping paper, opt for one made from recycled paper that can itself be recycled. These days there are countless brands to choose from.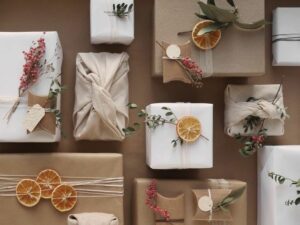 As you can see, there are many options for wrapping gifts beautifully and sustainably! And you don't have to save these tips just for the holidays. Eco-friendly gift wrapping is a lovely option year-round, especially when using the seasons or the occasion as inspiration.
More Photo Inspiration